Beyond the Baton
The conductor can be a rather mysterious player in an orchestra. They appear on stage as our guide through musical landscapes, holding in their expressive hands every sound and every silence, peeling back scores familiar and unknown to reveal the tiny details hidden within. But what makes a conductor? What skills, practices and experiences allow them to lead an orchestra with such expertise and conviction? We sat down with our Chief Conductor, Domingo Hindoyan, to find out more about him and the ins and outs of life as a conductor.
So to start at the very beginning – how does our Chief Conductor begin his day? "Concert days, rehearsal days, recording days, days off – all the same," Domingo tells us. "Most importantly, I have breakfast. A very important part of the day and I love them – especially the English breakfast in Liverpool!" After some nourishment, it's time to turn to the music. And for a conductor, that means studying scores. "Not just the scores for the music that week, but they may be scores of concerts I am doing in a few weeks' time. I prefer to work with paper scores, though I do also carry music on my iPad. I would need several suitcases to be able to transport all the music I have to learn at any one time – the opera scores can be very heavy!"
For Domingo, studying a score is much more than just memorising a composition – it's the beginning of endless possibilities. "I love the smell of the paper in a new score," he says, "opening the book and flicking the pages through – then slowly enjoying each page." Beyond the notes themselves, Domingo also spends time studying the background of a piece – "the context of compositions, why they were written and when, what was the inspiration." Together, all of this information synthesises into his own original approach to a score. "I analyse so many things before I even think about bringing it to a first rehearsal."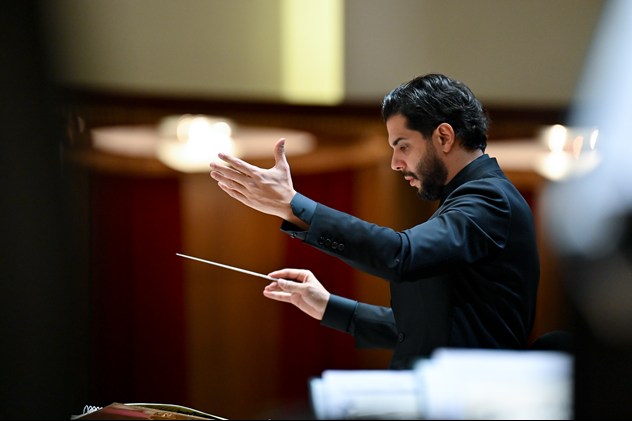 Of course, Domingo cannot spend his whole day buried in scores. It is orchestra sessions that allow the conductor to realise his musical vision for a piece. "Each session, whether recording or concert or rehearsal, is the same for me," he insists. "We try our best. We think about what we could do differently or better." This meticulous approach allows Domingo to really refine his ideas collaboratively alongside his fellow musicians.
On live performance days, the time in the run up to a concert is crucial. "Generally I try to stay focussed on the music which I am about to conduct," Domingo explains. "Usually just reading the scores with a coffee…and [I] try not to be distracted by emails that are constantly arriving on my phone." Ever-studious, Domingo must also ensure he doesn't lose track of time – "I must remember to allow time to get dressed ready for the concert too!" Depending on the score or the music being performed, the conductor's approach can vary. Sometimes he has friends and family with him in his dressing room, in which case he likes to "chat about something totally different" to clear his head. Once out on stage in front of an audience "anything can happen, but we just carry on playing".
Now in his second season with the Royal Liverpool Philharmonic Orchestra, Domingo has many great memories of concerts performed alongside our musicians. His first time conducting the Orchestra at the Royal Albert Hall last year springs to his mind – "[it was] live on the radio and the excitement – wow – something I will never forget!" Other performances stand out – "Bluebeard's Castle and Tchaikovsky 6 and Beethoven 9 and Bruckner…oh, how can I choose!" As a conductor, what difference does developing an ongoing relationship with an orchestra make?  "We are growing every day and understand each other more and more each week. We now know each other very well," Domingo says warmly. "The musicians do things before I even ask!" And this growing trust does not just go one-way. "We share ideas too." He recalls a rehearsal for Boléro earlier in the week where he allowed the 'solo' instruments to freely play without his direction, following their lead. Certainly, we see this deep trust and understanding between the musicians play out beautifully when they take the stage.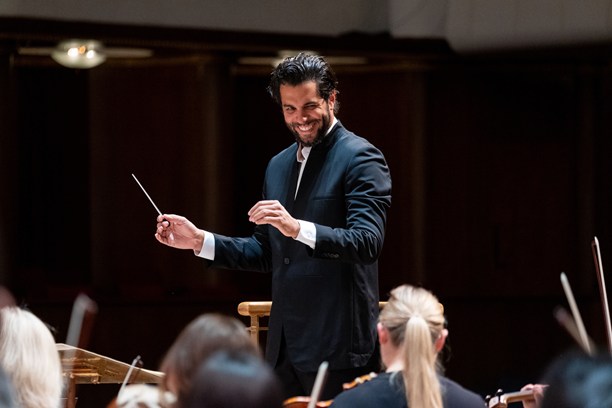 When he is not with us at the Hall, Domingo travels globally, taking his talents to many diverse orchestras. "I have been lucky to be able to work all over the world, with many musical friends," he says. However, for all the excitement this profession brings, the travelling can take a toll. For Domingo it's the most challenging part of the role. "Too many queues at airports. Too many suitcases to pack and unpack. And too many very early morning flights…", which also means no time to have his beloved English breakfast!
We are talking to Domingo at an exciting time for the conductor. He has recently released his very first CD, and his first CD with the Royal Liverpool Philharmonic Orchestra, a compilation of French classics that are close to his heart – "I am very happy with it," he says modestly. While any performance is made of the same elements, there are some unique challenges to recording with an orchestra. Recording sessions are "intense" with a focus on being "very time efficient. We have to have a plan." Performing must be balanced with short breaks to listen back, deciding whether to move on or go back and record again.  "We must watch that the players do not get tired too early." This can mean alternating louder sections with less demanding ones. How does Domingo himself keep his energy up? "A colleague backstage knows me well…there are always cookies lying around in the recording room!"