1          INTRODUCTION
This Plan sets out Royal Liverpool Philharmonic's Inclusivity and Relevance priorities and actions for the financial year 2021-22.
It was approved by the Board on 9 July 2021
It was developed by a cross –organisational project team including managers in all our key areas and two board members
It sits within our Strategic and Business Plan for 2021-22, and draws on our agreed Diversity Plan, our Operational Plan, our Audience Development plan, and other plans for specific areas of our activity such as Orchestra & Ensembles programme, Learning Programme and Hall and Music Room programme
All the work set out in this plan is costed and budgeted within our approved 2021-22 budget contained within our Business Plan
It includes as an Appendix, a detailed Action Plan with specific actions, outputs and resources allocated.
2          STRATEGY
The mission of Liverpool Philharmonic is to enhance and transform lives through music. In order to achieve our mission we are prioritising reaching new audiences, engaging young people, delivering social change and improvement in our city and performing the widest range of music.
Inclusivity and Relevance are fundamental to how we see ourselves as a music organisation. We are profoundly connected with communities and individuals across our city, unlocking their creativity and placing music – whether making or experiencing it – at the centre of their lives. And we are a national and international leader in innovating and reinventing what it means to be a professional music organisation with an orchestra at its heart in the 21st century. We are nothing if we are not relevant. Our music making speaks to people, enriches them, and engages them with today's society. It gives our communities a voice; it unlocks the creativity of those we work with.
Everything we do is to that end. A thrilling performance of Clara Schumann's music by Young Artist in Residence Isata Kanneh-Mason and the Orchestra. A world premiere of a joint commission at the BBC Proms by composer Grace Evangeline-Mason, a former recipient of our Rushworth Composition Prize aimed at nurturing emerging talent. An interpretation of Marvin Gaye's music in the Hall by Tomorrow's Warriors.  A concert in the Music Room by Della Mae, with their bluegrass songs asserting and reclaiming the conversation for women. The In Harmony Chamber Stars ensemble developing their music making and creativity and performing across the city. The children of schools in Anfield and Everton making music every day from early childhood. Service users and patients of Mersey Care and other NHS Trust partners using music making to support their recovery, health and wellbeing. Liverpool Philharmonic Youth Company, drawn from across the City region, coming together in different ensembles to make music; to sing; to play classical, jazz and folk and rock, big band and brass band music; to find their voice through composition and song writing, to explore their future options through projects and careers support. Our Choir bringing people from across the city together to sing. The simple act of some 300,000 people every year coming together with others for the social connection and experience of hearing brilliant music from across the centuries; music that moves, entertains, challenges, stimulates them. Or 900,000 different people every month who seek out and experience our music online. This is how we meet our mission. This is why we seek not just to be relevant; we seek to be indispensable.
This Plan covers a profoundly important year. It is one which will see us still managing the impact of the Covid pandemic, and facing uncertainty and unpredictability. There will be both opportunity and a need for us to build on the work we have undertaken over the last year to maintain contact and engagement of audiences, participants and communities. We need to build on the thinking and additional investment we have made to improve our ethnic diversity in the wake of the George Floyd murder and Black Lives Matter movement. And we have a new Chief Conductor, Domingo Hindoyan to establish, and to help drive forward this rebuilding, with his creative vision to deliver music for all.
The plan outlines how we will develop and improve the diversity and inclusivity of our organisation, the work that we do and the people that we reach. It also identifies who we will work with locally, nationally and internationally to create real difference in the sector.
We believe that diversity, inclusion and relevance are fundamental for the development of our business. If we are disadvantaging any sector of the population, we are potentially losing audience members, musicians, diverse partners and staff members – ultimately losing potential income and skills and talent; and not performing or presenting some great music. We need to ensure that we continue to be relevant to the people of the Liverpool City Region, and that we are reaching ever more, and more diverse, people within our communities.
In the development of our plan we have looked at all the Protected Characteristics outlined in the 2010 Equality Act. While we are fully committed to addressing to all, we are particularly prioritising:
Disability (across all areas of our operation and business)
Sex and gender (prioritising orchestra employees and programme, and Board membership)
Ethnic diversity (across all areas of our operation and business)
Socio-economic disadvantage (across all areas of our operation and business)
 For the purposes of this plan the term 'diverse' is used to mean the target groups referred to above, whilst also including all protected characteristics.
The Action Plan focusses on the following areas of our business:
Communities – audiences, participants and specific communities within the city
The Company – our workforce, leadership and governance
Artistic programme and the Creative Case for Diversity
 In carrying out this Plan we know that we have to work towards equity as well as equality of opportunity; to recognise and address the fact that certain people, whether employees, audiences, participants or artists, will have particular needs which have to be addressed differently and which we need to support to achieve true equality.
This Plan is for 2021-22. It is our intention to review and further develop this plan in this year, in light of the Arts Council's new Inclusivity and Relevance Investment Principle; the priorities for Liverpool City Council, and our own Strategic Plan and to have a new plan in place for 2022-23 and beyond.
Our vision for inclusivity and relevance is core to how we achieve our core goals and mission of becoming a truly international organisation rooted in Liverpool that enhances and transforms lives through music. We see this as a positive process, about embracing the opportunities that diversity presents to us as an organisation.
We will achieve this vision through whole organisation efforts, with the plan approved by the Board and overseen a cross-organisational steering group including a Board champion and the Chief Executive.
 Liverpool Philharmonic will embrace and champion the opportunities that inclusivity and relevance offer in our leadership, company members and in the artists and music genres we present. We believe that equality of opportunity across our organisation and our intention to reflect and engage the rich diversity of Liverpool City Region is central to our artistic success, continuing audience and participant growth and long-term sustainability. 
Five years - what will change look like in 2027?
We will be a representative organisation, Board, staff, orchestra, ensembles, Youth Company– both in terms of how we reflect our local communities and how we bring the best in their fields to Liverpool
We will present an exciting and innovative programme that celebrates and reflects the diversity of the UK and the global music industry and inspires the next generation of musicians and audiences
We will have a strong leadership role in the sector, proactively supporting local diverse music organisations to grow and thrive, and also being a leader nationally and internationally in developing the diversity of our sector
We will develop and roll out an integrated approach to community engagement, combining participation and learning, audience development, talent development and training/employability representing the breadth, depth and quality of Liverpool Philharmonic through community partnerships and residences. These programmes will build on learning from In Harmony, LEAP into Live Music, talent development and employment schemes.
Our company will have a gender balance and no gender pay gap; it will have increased from 3% ethnically diverse and 4% disabled in 2018 to at least 6% ethnically diverse and 8% disabled, working towards 11% ethnically diverse and 12% disabled
We will be programming events which in relation to their partners, their themes, or their lead artists, reflect the following targets – gender balance as per the local population; at least 6% ethnically diverse and at least 6% disabled.
Our audience and learning participants will be at least 6% ethnically diverse and at least 15% disabled
We will make steady progress in all of these areas between now and 2027.
We will be monitoring and have good knowledge of the socio-economic makeup of our company and our audiences and participants.
3          BACKGROUND DATA
3.1        THE DIVERSITY OF OUR CITY REGION
ONS Census - Ethnic Diversity and disability
The Office of National Statistics 2011 Census data provides the following data for ethnic diversity of the Liverpool City Region. Our commitment is to be representative of the LCR population in our audiences, or programme, and our workforce.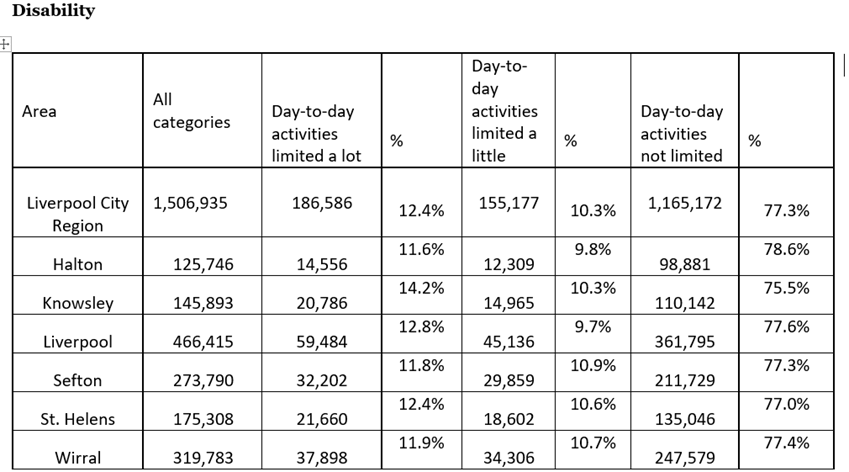 Source: ONS Nomis site https://www.nomisweb.co.uk/reports/localarea
https://www.ons.gov.uk/peoplepopulationandcommunity/healthandsocialcare/disability/articles/nearlyoneinfivepeoplehadsomeformofdisabilityinenglandandwales/2015-07-13
Social-economic diversity
Multiple sources attest to the significant economic deprivation in Liverpool. In 2019 Liverpool City Council published an analysis of multiple deprivation in the City and the City Region
Source: Liverpool City Council website; The Index of Multiple Deprivation 2019 - A Liverpool analysis
https://liverpool.gov.uk/media/1359213/imd-2019-liverpool-analysis-main-report.pdf
It found that
For Average Score, Liverpool is considered the 3rd most deprived of 317 local authority areas.

For Average Rank, Liverpool is considered the 4th most deprived local authority in England

For proportion of Lower-layer Super Output Areas (LSOAs) in the most deprived 10% nationally, Liverpool is ranked 2nd most deprived (previously ranked 4th).

145 of 298 LSOAs (49%) in Liverpool are in the most deprived 10% nationally. 48% of the city's residents, and 57% of its children, live in these LSOAs.31 LSOAs are in the most deprived 1% in England.

Liverpool has one LSOA, located in Anfield electoral ward, in the top 10 most deprived LSOAs, and seven that are in the top 100 most deprived out of 32,844 in England.

Of these, three are located in Anfield, two in Everton, one in County, and one in Tuebrook and Stoneycroft.

Liverpool City Region is ranked as the most deprived of England's 38 LEP areas
The Labour Market Profile for the City Region shows that on 2019 the City Region had 18.6% of households which are workless compared to a national average of 13.9%, with 14.4% of children in such households compared to 9.6% nationally. 9.2% of the adult population have no qualifications compared to 6.4% nationally.
Source: ONS Nomis site: Labour Market profile, Liverpool City Region https://www.nomisweb.co.uk/reports/lmp/lep/1925185554/report.aspx?town=liverpool
3.2        THE MUSIC SECTOR
There have been various reviews by organisations such as Keychange and UK Music identifying shortfalls in the diversity of the music industry in the UK (and beyond). There is also an imminent report commissioned by Arts Council England, looking specifically at diversity within the professional classical music sector in England. This will be an important piece of research and we will review our plan and actions in light of it.
3.3        LIVERPOOL PHILHARMONIC
Audiences
Our most recent full Audience Finder report is for 2019-20 up to February 2020. This shows that of those who responded to surveys, 97.3% were white; 1.4% mixed/multiple ethnic background, 0.5% Asian, 0.3% Black, and 0.4% other; with a total ethnically diverse number of respondents at 2.7%. The Audience Finder Survey 2019/20 indicates that 13.5% of those responding have a long term health condition. These figures show that our audiences currently fall short of the ethnic diversity of the City Region.
Participants
We collect comprehensive data tracking participation each term, and annually, on the young people in In Harmony and the Youth Company.
Liverpool Philharmonic Youth Company has 600 children and young people of which
14% are from ethnically diverse backgrounds
11% have a declared disability or Special Education Need
18% are in receipt of a full bursary to take part given low socio-economic background
In Harmony has 1,550 children aged 0-18:
All are from a low socio-economic background and 40% are defined as living in poverty
23% are from ethnically diverse backgrounds
26% have Special Education Needs and/or Disabilities
The Company
We collect full data for our workforce and governance including demographic profile of company members, and of all applicants to vacant positions, tracked through every stage of the recruitment. As of October 2021:
Our Board has 11 members. 7 (63%) are female. 2 (18%) are Black or Asian. None are declared disabled.

5% of our workforce is ethnically diverse.

4% is declared disabled

53% is female

4% is declared LGBTQ+
As with audiences we fall short of our city region profile in relation to ethnic diversity and disability, and we are addressing this through our recruitment, retention and development of staff is a priority.
We will work hard to encourage both applicants and current employees to share their data in relation to protected characteristics. We will seek to alleviate any concerns regarding confidentiality and sensitivity, and we will proactively explain why this data is important as part of our commitment to improving our effectiveness as a truly inclusive organisation.
OUR BASELINE AND WHERE WE WANT TO BE
We want to be truly representative of our city, Liverpool. We aim initially at the very least, achieving in our company at all levels and within the Orchestra, and audiences
5.2% Ethnically diverse (Liverpool City Region population) by 2024 with the aim then work towards 11% (Liverpool City Council population) ideally by 2027
50% female
12% disabled
And we know that in some areas we are currently falling short. We want to remove these deficits:
Board currently 63% female, 18% culturally diverse, no disabled
Staff is 3.5% ethnically diverse, and 6.4% disabled
Audiences are estimated to be 2.7% ethnically diverse
4         EVALUATION AND MONITORING
We have a range of means of evaluation and monitoring our work in relation to Inclusivity and Relevance.
4.1        HUMAN RESOURCES
We collect and review full diversity data on all employees. We monitor fully our recruitment at every stage and review this data. We also seek and review feedback from candidates in recruitment.
We record and monitor all training, including gathering staff feedback processes.
We conduct appraisals of all staff, including musicians and use these to gather feedback, set direction, support training and development, and ensure we are supporting each member of the company on an individual basis
4.2        CREATIVE CASE
We record and monitor data around all priority areas against targets in our Action Plan including numbers of artists engaged. We seek and review internal staff and musician feedback on all events, and audience feedback. When working with partners we debrief and review all events after they have taken place and capture any learning for future application.
4.3        LEARNING AND PARTICIPATION PROGRAMMES
Across all programmes we undertake surveys and focus groups with programme participants and partner organisations
We have established an Internal Learning Programme evaluation framework which we are implementing in 2021/2
We have conducted a long term external longitudinal evaluation of In Harmony Liverpool (both locally and part of national evaluations)
4.4        AUDIENCES
We seek and monitor feedback from all attendees after the event on both their experience of the artistic programme, and their overall visitor experience.
We undertake regular audience surveys to help us improve our overall service, product, and meeting of specific needs
We have well developed Feedback systems and evaluation for all LEAP! Into Live Music attendees
4.5        DELIVERY OF INCLUSIVITY AND RELEVANCE
We have created an Inclusivity and Relevance Steering Group, made up of representatives from across key departments; members of the Orchestra, and Board members.
The Action Plan is reviewed quarterly by the Inclusivity and Relevance Steering Group, Leadership Team and Executive Team
Inclusivity and Relevance is a standing item at all Board meetings, with both overall strategic considerations, and delivery against targets considered.
5          PRIORITIES AND ACTIONS
We have identified the following priorities and actions for 2021-22. The delivery of these with specific outputs in the year, budgetary and other investment, and lead responsibilities will be set out in a separate internal planning document which will be used to monitor progress.
5.1         WORKFORCE, LEADERSHIP AND GOVERNANCE
Recruitment - We will invest in recruitment to increase the diversity of our Professional Musicians and of our staff.
We will implement a revised recruitment process for the Orchestra including

Data collection of applicants
Baseline data collected of freelancers
London / digital auditions to increase accessibility
Promotion of vacancies through trusted partners and diverse led networks
Launch of new Musician Internship Scheme (paid yearlong placement for 4 musicians)
Review / refresh extras and deputies' lists

We will work with organisations including Black Lives in Music, Mersey Care NHS Foundation Trust, Princes Trust and MICAH to increase the number of diverse applicants to our organisation
We will conduct major annual recruitment drives with partners and in locations in the city with low socio-economic backgrounds, such as Toxteth, Walton, and Everton
We will change our processes to ensure applications are accessible to all
We will review our actions in this area further in light of the soon to be published research into the sector commissioned by Arts Council England
We will actively encourage applicants to vacancies to submit their data to help us monitor our company, giving them confidence in our confidentiality, and explaining why we are doing it as an inclusive organisation
Supporting our workforce - We will support our workforce to ensure that the needs of diverse employees are met
We will invest in training programmes in awareness in targeted diversity awareness training
From September we will adopt the Real Living Wage as a minimum for all staff to support low paid staff and to increase our attractiveness as an employer across our diverse communities
We will complete the first of our apprenticeships, with a young Liverpool woman gaining an apprenticeship as a Production Technician and we will upskill two members of our finance team through apprenticeships
We will support diverse company members with tailored training and development to retain them, and to encourage them to be prepared for, and apply for, opportunities for promotion within the company
Our Board - We will ensure our Board is diverse and representative of our communities
We will ensure any recruitment to the Board maintains and improves our overall inclusivity and is carried out in an open way that encourages a diversity of applicant
We will maintain current Board membership to be least 50% female and 18% ethnically diverse
Organisational engagement - We will involve our whole organisation, from the Board down, in the conversation, in creative ideas, and in continuous review and improvement
We will lead the Plan's delivery through the Inclusivity and Relevance Steering Group, Executive Team and the Leadership team, reporting to the Board, and with support from the Board Diversity lead
We will ensure this is a standing item on Board agendas.
We will engage with the wider company including the Youth Company and Choir with approaches to members of both to consider and contribute to the Diversity Action Plan.
We will ensure full and continuing communication of and engagement with our Diversity priorities and actions through the Company
We will actively encourage staff and applicants to vacancies to submit their data to help us monitor our company, giving them confidence in our confidentiality, and explaining why we are doing it as an inclusive organisation
As the management team we will share, read and review a range of materials from within and outside the sector to help develop our understanding and creative thinking
External communication - We will ensure we communicate our commitment and strategy externally.
We will set out our achievements and the actions we are undertaking, and will publish a clear statement of our work to date and our future plans
We will ensure that the imagery we use in our online and print material properly reflects our values in relation to ethnic and other diverse communities, prioritising images of diverse artists and participants
We will review both our website and Brand guidelines to ensure a strong fit with our Diversity Plan
We will ensure our Diversity policy statement is on our website and visible.
Leadership - We will exercise leadership working to ensure diversity, inclusivity and good practice in the sector
We will lead the Liverpool City Region Music Board, ensuring a commitment to diversity throughout the strategy
We will act as a leading contributor to development of music education and talent development in the city and nationally
We will support diverse emerging talent in management and leadership of the sector by delivering the MA in Classical Music Industry in partnership with University of Liverpool. We will work as a partner in LARC and COoL to develop a unified diversity and equality statement and plan
We will share and disseminate learning and knowledge from our nationally leading work around young people and social inclusion (In Harmony) and in engaging disable participants through our NHS Music and Mental Health programme
We will sign up as a Founder Member of Black Lives in Music
We will develop a partnership programme with Royal Northern Sinfonia/Sage Gateshead, Royal Philharmonic Orchestra and Bournemouth Symphony Orchestra to share good practice, and collaborate on addressing the diversity of our ensembles and freelance musicians
5.2        COMMUNITIES
Youth Company - We will invest in targeted activity to increase the diversity of Liverpool Philharmonic Youth Company
Since establishing Liverpool Philharmonic Youth Company in 2015, its purpose has been to provide creative opportunities for young artists aged 12-21 to develop as singers, instrumentalists and composers/songwriters, bringing together a critical mass of over 400 local young people passionate about music. Through the addition of new ensembles across music genres, music industry careers events and creative collaborations, for example through partnerships with DaDafest and Tomorrow's Warriors, we will diversify the musical content, artists and young people in the Youth Company to be more reflective of our City Region and Liverpool Philharmonic's overall artistic policy, broaden the range of opportunities and skills development for Youth Company musicians and emerging local artists to develop their talent every year, and to strengthen our position as a major contributor to talent development in the City's music sector.
From 2021, we will:

launch Youth Company Session Orchestra as a permanent ensemble for high level local musicians performing a range of jazz and contemporary music in the main auditorium, Music Room and across the City. As part of this ensemble, we will introduce an annual Youth Company / LIMF Academy collaboration resulting in a performance by Youth Company Session Orchestra with 3 LIMF Academy emerging artists/songwriters/producers, presenting a cross-genre concert of exciting, original contemporary music by some of the best young musical talent in Merseyside at Liverpool Philharmonic Hall. LIMF Academy artists apply for a place on the scheme, receive support in developing their ability to collaborate artistically with others, develop song-writing, arranging and orchestrating skills to produce new arrangements of their own original songs and covers, which are then performed live with a 30-piece band and full production in Liverpool Philharmonic Hall.
Transform Liverpool Philharmonic Youth Academy Orchestra for Grade 4-7 young instrumentalists from a 4-day non-residential course into a permanent, regular ensemble across the year. The Youth Academy Orchestra has filled a missing link in the talent pipeline for intermediate level orchestral musicians in Merseyside between In Harmony / Schools / Music Education Hub ensembles and Liverpool Philharmonic Youth Orchestra and other talent development programmes. Since its launch in 2015, the Youth Academy Orchestra has provided a direct pathway for around one third of young people in Liverpool Philharmonic Youth Orchestra, increasing the diversity of young people regularly engaging with the organisation.
Establish Youth Company Brass Band as a permanent regular ensemble, building on the successful project-based programme in recent years, aiming to attract Grade 7+ young musicians from across Merseyside.
Increase the number of In Harmony Liverpool young musicians accessing high level musical training by extending the pilot Pathfinders programme with the Royal Northern College of Music to include up to 25 young people each year aged 8 upwards from ethnically diverse communities and lower socio-economic backgrounds. Young people on this programme receive additional individual instrumental tuition, music theory, composition, symphonic and chamber performance training, and access a range of opportunities throughout the year in the Youth Company and at the RNCM.
Provide 100% bursaries for children from low income backgrounds
In Harmony - We will deliver our In Harmony programme with the communities of Everton and Anfield
We will provide regular music engagement for 1550 children in Everton and Anfield, all from areas of multiple social inequality, and from a diverse range of ethnic backgrounds. Detail is set out in our separate In Harmony plan
We will provide talent development support for In Harmony children and young people through Youth Company, Resonate Youth Philharmonic and RNCM Pathfinders
Schools Concerts - We will deliver Royal Liverpool Philharmonic Orchestra Schools' Concerts to a diverse and inclusive audience and with programmes that are relevant to their lives
We will present 13 concerts to 250 schools (including over half of city of Liverpool primary schools)We will create a programme with a KS2 & 3 theme of Migration in partnership with National Museums Liverpool, including addressing the transatlantic slave trade, and the Irish diaspora, with new works by Fela Sowande and Hannah Kendall
We will produce a pre-concert curriculum scheme of work for each key stage
We will provide BSL interpreter at each key stage series of concerts
Music and Mental Health - We will deliver our NHS Music and Mental Health Programme for users of a range of disability and physical and mental health services
We will deliver a free of charge programme to 1500 service users/patients with live music, creative music making, performance, listening, rehearsal visits, courses for patients and service users, and inpatient and community programmes – set out in a separate agreed detailed plan
We will deliver the programme 1,500 patients and service users; including those using a range of disability and health services:

Mental ill health: anxiety, depression, psychosis, social isolation, schizophrenia, perinatal mental health, eating disorders, older people, high secure inpatients.
Physical ill health: cancer, gerontology, chronic diseases, acquired brain injuries, long Covid;
Learning disabilities;
Dementia
Drug and alcohol recovery
Leap! Into Live Music
We will target additional investment into audience development with ethnically diverse, disabled and socially excluded communities across Liverpool City Region through Leap! Into Live Music
We will identify key individuals and organisations, and develop both existing and new relationships to engage more first time and returning attenders from diverse communities.
We will increase our existing investment into our Leap! Audience Development fund and dedicate additional resources to audience development of our ethnically diverse communities, in addition to the work we already do to reach economically deprived communities.
Singing
We will develop a singing strategy aimed at unifying our approach to singing with a focus on broadening the diversity of our participants in Choirs and other singing programmes.
We provide a range of singing opportunities and training through the Royal Liverpool Philharmonic Choir, our Youth Company and other learning activities. We wish to integrate this both within the company and with other activity in the City, for example through the Music Education Hubs. Specifically, we wish to set a clear plan for development and growth of the Royal Liverpool Philharmonic Choir, including strategies to broaden the diversity of the Choir.
We will undertake a review and develop a strategy to integrate our singing programmes both within the company and with other activity in the City, for example through the Music Education Hubs.
We will set a clear plan for development and growth of the Royal Liverpool Philharmonic Choir, including strategies to broaden the diversity of the Choir
We will invest in this review with particular focus on how we can broaden engagement and participation.
Accessible and welcoming venues
We will ensure that our facilities are accessible to all communities
We will conduct an annual focus group of customers with access needs and prioritize building / process improvements with this information and information from customer feedback reports and surveys
We will increase Access Scheme membership and communicate access provision clearly to existing and potential members
We will deliver relaxed family concert which will have a BSL co-presenter and a Dementia Friendly concert within the 21-22 season
CREATIVE CASE FOR DIVERSITY
Ethnically diverse music making and artists
We will increase investment in artists and composers from ethnically diverse backgrounds through performances, commissions and artist residencies.
We will deliver Artists in Residence programmes with Isata Kanneh-Mason, and Roderick Williams.
We will commit to building on this with further residencies and increasing our ethnically diverse representation in guest artists in our Orchestra and Ensembles programme and in our Youth Company programme. This will complement our existing growth targets for artists in other musical genres the Hall and Music Room programme.
In our coming Orchestra and Ensembles seasons, we will focus as a priority on composers from ethnically diverse backgrounds for new commissions, repeat performances of recent works and also works by historic composers with a commissioning and investment fund to support it.
We will deliver Side by Side performances by The Orchestra with young people from In Harmony, the Youth Company and RNCM, encouraging diverse young talent
We will deliver proportional targets in line with agreed long-term targets for diverse lead artists in Music Room

year on year increases in ethnically diverse performers,
Maintain the proportion of self-promoted shows featuring ethnically diverse lead artists at a minimum of 10%
Cultural partnerships
We will invest in cultural partnerships with ethnically diverse -led and other diverse organisations generating new music, events and audiences.
We will build on existing relationships and partnerships to create 5 Diverse Liverpool Partnerships. These will be of at least 3 years, and will bring together Liverpool Philharmonic with other key local, regional and national organisations to create programmes of work which have diversity at their heart. In each case they will have a clearly identified shared vision aims and outputs, and our role, for example as sector leader, co-promoter, producer, supporter and/or provider of resources will be clearly identified.
From these partnerships we will

Grow still further our presentation of diverse talent and performances on our stage
Break down barriers for audiences and performers
Support talent development
Provide leadership and support to, and learn from, diverse organisations locally regionally and nationally.

We will recruit a Creative Programming Officer, as a new member of the Artistic Planning team to help nurture programming relationships with ethnically diverse artists and partner organisations, with the support of a Jerwood Creative Bursary Scheme grant of £12,675
We will earmark additional investment to support this work, Youth Company), plus financial investment to support the Jerwood Creative Bursary.
Developing emerging talent
We will invest in new talent entering the music workforce through a Liverpool Philharmonic Emerging Professionals Programme and through the Rushworth Composition Prize, seeking a diverse entry
We will bring together existing support for emerging talent across our business into a coherent programme with annual investment through a new Emerging Professionals Programme. This will provide tailored mentoring, training and career development support to emerging music professionals, particularly those from underrepresented groups in the music sector.
The Programme will bring together our existing strands of the Rushworth Composition Prize, MA Classical Music Industry (with University of Liverpool) and Apprenticeships into one programme, and provide new investment to launch a new paid Musician Internship Scheme for 4 outstanding musicians every year entering the orchestra profession, creating a tailored year-long training programme to prepare these musicians to successfully establish orchestral careers. It will include symphonic, chamber and contemporary music rehearsals and performances, orchestral music education and community engagement activities, career development and mentoring, particularly targeting recruitment at musicians from communities underrepresented in classical music. The first cohort will begin their internships from summer 2022, with recruitment starting autumn 2021.
We will sign up to and promote the Sound and Music Fair Principles to support applications from diverse composers to the Rushworth Composition Prize
We will deliver side by side performances with Orchestra musicians working with young people from In Harmony, Liverpool Philharmonic Youth Company and RNCM
Keychange and Gender diversity
We will increase the number of female composers, conductors and artists that we present and support
We will increase female artists and conductors within our season (for example, nine female conductors in the 2021-22 season)
We will meet our commitment to Keychange pledge to increase representation of women and gender minorities

commissions and premieres presented by The Royal Liverpool Philharmonic Orchestra and Ensembles by 2022
Artists promoted by Liverpool Philharmonic in its Music Room venue (i.e. all concerts except external venue hires) by 2022
Increase the proportion of shows with named lead artists to 50/50 by 2024
6         WORKING IN PARTNERSHIP
We cannot achieve this programme on our own. We will engage with communities, education and health partners, cultural partners, and others to both develop and deliver our work and to ensure that we are both effective and truly responsive to our communities' needs, and ambitions.
6.1        COMPANY
We are actively working with Black Lives in Music to ensure we recruit in a way that encourages more applications from ethnically diverse musicians and staff. We work with various partners in recruitment to improve the diversity of our applicants, including Merseycare, MICAH, Prince's Trust, Give Get Go, Black Lives in Music, UNITE the Union, Musicians' Union, Parents in Performing Arts (PiPA), and specialist training providers
6.2        COMMUNITY
In Harmony Liverpool is based on frequent community and partner consultation and engagement with the communities of West Everton and Anfield, as well as from outcomes from case study children termly interviews, parent and teacher feedback. Curriculum design is planned with partner schools.
We consult with Youth Company participants and parents/carers to feedback on programme content and experience and identify improvements/future developments.
Our Schools' Concerts programmes are created using annual evaluation feedback with schools and music education hubs.
Our NHS programmes are co-designed with service users and NHS staff to ensure the intended outcomes are achieved. Focus groups and surveys with service users inform future developments. Strategic priorities are identified in consultation with NHS trusts.
Rushworth Composition Prize was subject to a formal programme review in March 2021 involving previous participants, judges and other stakeholders.
Leap Into Live Music is based upon direct consultation and engagement with community groups and companies, developing with them a programme to attract new attenders to our concerts
The proposed Singing Review will engage a range of stakeholders including the amateur sector and community groups across the city involved, or interested in, singing.
6.3        CREATIVE CASE FOR DIVERSITY
Our Creative Partnerships will be developed in close dialogue with key diverse led cultural organisations in (and in some cases beyond) the city. Our programme, particularly in the Music Room is curated in partnership with a number of specialist local and national promoters and agencies engaged with specific and diverse genres of music and artists
Our Talent Development programmes are developed in close consultation and partnership with a range of organisations including HE institutions such as Royal Northern College of Music and University of Liverpool
6.4        LEADERSHIP
We work actively with and in many cases lead a range of partners in developing regional, national and sector-led strategic approaches. These include
The Liverpool City Region Music Hubs
Arts Council England
Department for Digital, Culture Media and Sport
Culture Liverpool and Liverpool City Council
Liverpool City Region Music Board
Liverpool Arts Regeneration Consortium (LARC)
Creative Organisations of Liverpool (COoL)
Liverpool City Region Cultural Partnership
Northern Cultural Network
Association of British Orchestras
British Association of Concert Halls
Music Beyond Mainstream
Specific partnerships, for example with Royal Philharmonic Orchestra, Bournemouth Symphony Orchestra and Royal Northern Sinfonia/Sage Gateshead and with Higher Education partners such as Royal Northern College of Music and University of Liverpool.
7          A LEARNING ORGANISATION
We are committed to being truly inclusive, and an organisation that is truly relevant to its community – its audiences, participants, and the wider communities of our city. We will only achieve this ambition with true leadership, commitment, and self-refection. We need to keep learning, keep reviewing, keep building our understanding of what it means to be truly inclusive. To that end we will be active in reading, sharing knowledge, drawing on the skills and ideas of our company, and also drawing on knowledge and information from elsewhere, both within and beyond the music sector. The senior management will share and build a continuing library of studies, reports, and information which will help us in this aim. Examples of recent or imminent reports include:
UK Music Diversity report 2020
https://www.ukmusic.org/wp-content/uploads/2020/11/UK_Music_Diversity_Report_2020.pdf
The imminent Arts Council commissioned research into employment in Classical Music
Trans employee experiences survey: Understanding the trans community in the workplace– research conducted by Totaljobs
https://www.totaljobs.com/advice/trans-employee-experiences-survey-2021-research-conducted-by-totaljobs
Good Recruitment of Older Workers – reports by Aging Better UK
https://www.ageing-better.org.uk/good-recruitment-older-workers-grow
Deloitte's report on Six Signature Traits of Inclusive Leadership
https://www2.deloitte.com/us/en/insights/topics/talent/six-signature-traits-of-inclusive-leadership.html