Liverpool Philharmonic at the Friary, formerly St. Mary of the Angels church, is a recording and rehearsal venue, situated in West Everton. The space is currently used by the Royal Liverpool Philharmonic Orchestra and Choir, Liverpool Philharmonic Youth Orchestra, and West Everton Children's Orchestra.
Rehearsal space and recordings
Major recording labels including EMI Classics, Decca and AVIE have recorded at the Friary. With an acoustically treated main space, flexibility and numerous breakout rooms, Liverpool Philharmonic at the Friary is an ideal space for rehearsals for all kinds of activity and is available for hire.
Facilities 
Main Space - approx 21m x 10m acoustically treated former nave
Steinway Grand Piano
Raised wooden floor
Flexible stage risers
Opus musician posture chairs and music stands
Control Room – Flexible classroom size space with power and data points, including a clean feed to support recording 
Two rest areas – bistro style seating, sofa chairs and two fully equipped domestic kitchens
Dressing rooms – quite spaces for relaxation, changing or practice
Wi-fi
Secure car park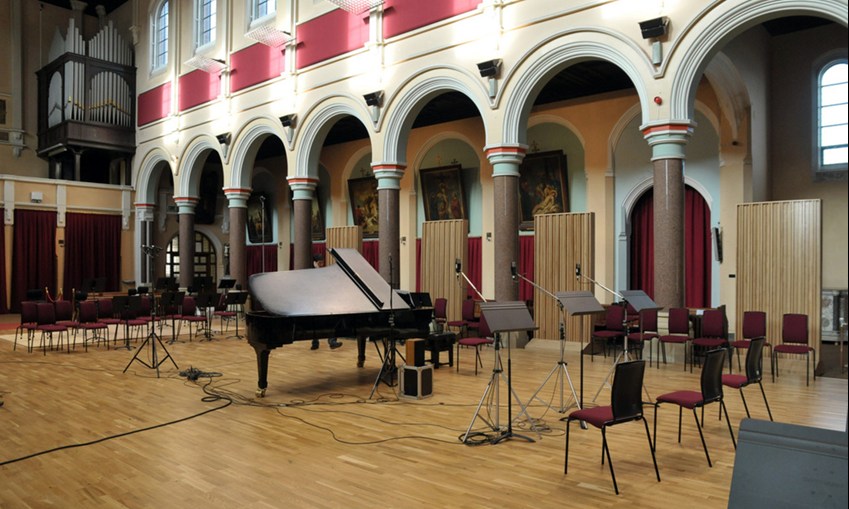 Hire 
An acoustic treatment has been developed, manufactured and installed by Amadeus in the main space. It includes a raised wooden floor, delineating the rehearsal space, free-standing deflectors, wall baffles and some substantial curtains around the perimeter of the room and across a number of large semi-circular recesses*. 
A new lighting system has been installed, with an emphasis on creating a good level of lighting and excellent uniformity across the space.
*Please note that access to the curtained off areas is restricted to essential personnel only and not for general visitors. If any visitor wishes to view the altars please speak to the Premises Officer on duty and this will be arranged for a suitable time.
Furniture/Equipment 
1 Steinway Grand Piano 
1 Piano stool 
85 Opus 1 Chairs 
104 general use chairs 
65 Music Stands 
1 Director's stand 
1 Director's stool 
6 C5 'gig' bass stools, with back supports, plus 3 foot supports 
4 Percussion Stools 
A selection of risers – accessible via the steps provided at each end of the section. NB When accessing the risers please use the steps provided for this purpose.
Rest Areas and Catering 
There are two rest areas, one on ground level and one on the first floor. Both contain a kitchen area, including a fridge, cupboards and facilities for hot and cold drinks. Each kitchen area is supplied with crockery, cutlery and a microwave oven. 
The ground floor rest area is furnished with bistro tables and chairs and some sofa chairs and the first floor area is furnished with sofa chairs. Catering can be provided if required.