Liverpool Philharmonic Hall
St George's Day
The Orchestra of Syrian Musicians joined by members of Royal Liverpool Philharmonic Orchestra with special guests Damon Albarn & Mounir Troudi
Due to unforeseen circumstances, Mounir Troudi will no longer be performing in this concert.
The Rapid Response Unit – a one-year art project fusing real time news and current affairs with UK and International artists of all disciplines – has commissioned the extraordinary Orchestra of Syrian Musicians to formulate a musical expression for St George's Day.
The Orchestra of Syrian Musicians will formulate a musical response, culminating in this unique public performance and will be joined onstage by Damon Albarn, Mounir Troudi and members of Royal Liverpool Philharmonic Orchestra.
As part of this commission The Orchestra of Syrian Musicians will also undertake a rehearsal residency in Liverpool, prior to the St George's Day performance.
The Orchestra, made up of 50 musicians and singers, were reunited by Africa Express in 2016. Since then, they have toured around Europe including opening Glastonbury's Pyramid Stage and a performance broadcast worldwide by YouTube from London's Royal Festival Hall.
Enjoy their amazing energy, remarkable Arabic classical music and beautiful melodies in this very special event - live at Liverpool Philharmonic Hall.
St George is of course the symbol of English nationalism, but he was also an immigrant, and remains the patron saint of England, Bulgaria, Palestine, Ethiopia, Greece and Lithuania. On the 23rd of April this truly multi-cultural city will come together in an unforgettable celebration of art, music and unity; of that I've absolutely no doubt.
Liverpool Philharmonic is honoured to be welcoming the Orchestra of Syrian Musicians, Damon Albarn and Mounir Troudi to perform on St George's Day. It is a perfect fit with our mission which is all about the power of music to transform lives, and to connect across cultural boundaries, and we are looking forward to a memorable night.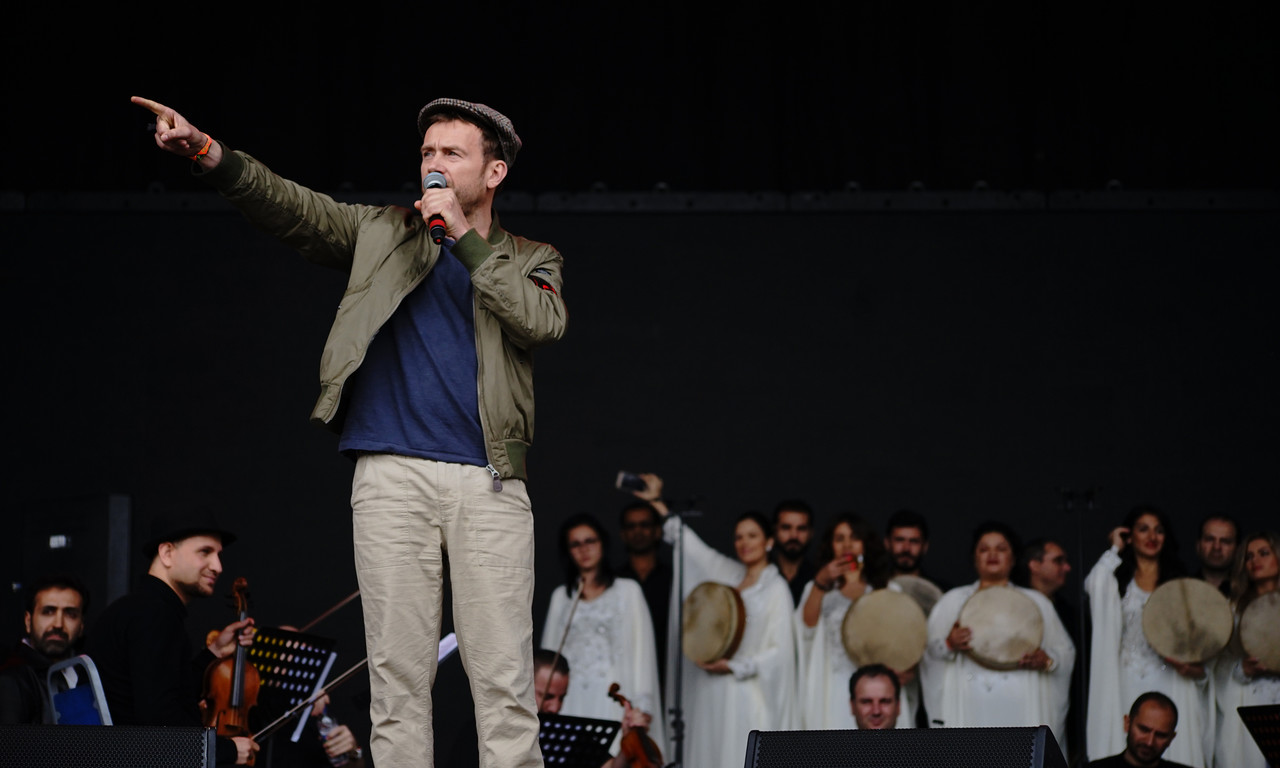 £25, £75
7.5% per order administrative fee applies for online & telephone orders, this includes all costs and postage is free. More information about booking fees.
There is a limit of four tickets per person.