Music Room
Port Sunlight Sea Dogs
Of Sailors and Whalers - Shanties and Songs of River and Sea
Port Sunlight Sea Dogs & friends sing shanties and ballads of a sailor's hard life at sea. Songs of heroes and villains, of distant ports and cruel seas - join Port Sunlight Sea Dogs in this great tradition, part of Merseyside's maritime heritage.
Supported by the wonderful Gerry Ffrench, deserved winner of the North West Folk singer-songwriter award 2017, with shared roots in folk and Celtic traditions, Merseybeat, Skiffle-even opera! We have scouse in our bellies and the River Mersey in our veins.
John Coleman, Mal Lowe, John Thackray, Denis Toohey and Arthur Vaughan are born, bred and well-seasoned performers from both banks of the Mersey. Liverpool's historic 'Phil', at the heart of the city of Liverpool, is just the place for Port Sunlight Sea Dogs and friends to sing out tales 'Of Sailors and Whalers', in mildly raucous working songs, lusty choruses and wistful ballads of homes far away.
Port Sunlight Sea Dogs perform at maritime events and historic venues, with the River Mersey, the waterfront, the Port of Liverpool, the docks and its people, all celebrated in songs and stories. Port Sunlight Sea Dogs perform aboard historic ships and boats, including Merseyside's 'newest' historic vessel, 'The Danny'. They have participated in filming aboard historic Barque 'Zebu'. They were guest performers at the Liverpool Town Hall 250 year Freedom of the City awards to the Liverpool Pilotage Service. Port Sunlight Sea Dogs support Liverpool's annual Merchant Navy Memorial Day, Remembrance events and local RNLI fundraising - all important tributes to our past and future maritime story.
Gerry Ffrench is deservedly one of our most popular musicians, winner of the North West Folk singer-songwriter award 2017 at Costa del Folk, Portugal. Gerry has many festival, radio and live performances to her name, at home, and in Europe. Gerry is a brilliant writer and performer of songs of Liverpool life, of the city and its people, at war and at peace. Her colourful Liverpool and Irish roots have fed an amazing talent, which has earned Gerry such wide appeal.
£12
7.5% per order administrative fee applies for online & telephone orders, this includes all costs and postage is free. More information about booking fees.
Additional Links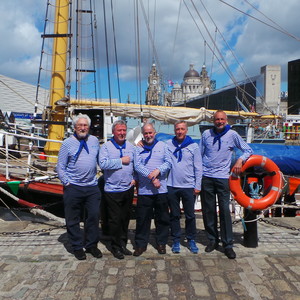 Port Sunlight Sea Dogs