Prokofiev Peter and the Wolf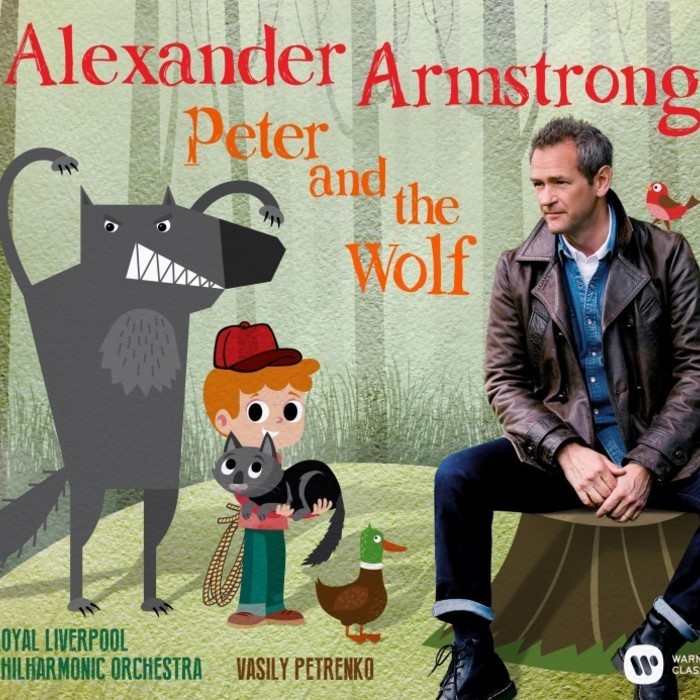 Royal Liverpool Philharmonic Orchestra
Vasily Petrenko conductor
Sergei Prokofiev (1891-1953)
1. Peter and the Wolf (1936)
Camille Saint-Saëns (1835-1921)
2. Carnival of the Animals (1886)
Alan Rawsthorne (1905-1971)
3. Practical Cats (1954)
-
The ever-popular Alexander Armstrong, English comedian, actor, host of Pointless, and voice of Danger Mouse and narrator of Hey Duggee on CBBC, narrates Prokofiev's charming musical tale, Peter and the Wolf. Peter and his animal companions are brought to life before your ears by dancing strings, quacking oboes, fluttering flutes and prowling horns in Prokofiev's charming tale of courage and friendship.
This recording of classical music for children includes Saint-Saëns's Carnival of the Animals and Alan Rawsthorne's Practical Cats all recorded with the award-winning Royal Liverpool Philharmonic Orchestra under chief conductor Vasily Petrenko.
"This piece is so brisk, and so bright, it's easy to understand this piece (Peter and the Wolf) at any age. You have to show the faces of all the characters. It's Peter, it's the grandfather, the bird, the duck, the wolf, it's a cat: hunters all together – and to make it in one single phrase, it requires very special skills sand I think Alexander is able to do that so wonderfully." - Vasily Petrenko
Book tickets for Peter and The Wolf in concert with Alexander Armstrong and the Royal Liverpool Philharmonic Orchestra on 14 December at Liverpool Philharmonic Hall.
Price

£12.00
£2.50 P&P (per order)
Buy Album